Shinobi School is proud to be represented at it's first competition! We're extremely fortunate and excited to have students that have the courage to compete and represent our school! Today's competition will take place at The Ninja Lounge Miami "Ultimate Ninja Competition". 25 of the best teams will go head to head with one purpose, to clear the course and attain ULTIMATE VICTORY!
After intense training, 7 of our students went out to represent at this competition. Comprised of 3 teams of 2, and 1 amazing supportive fan, they will be our first students to represent the school, compete, and sport our new school shirts!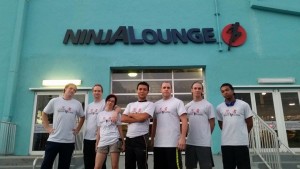 Let's take a moment to wish (left to right):
James, Sorato, Mousey, Angel, RJ, Connor, and Felix the best of luck! Click their names and wish these ninjas the best! We can't wait to hear their stories and see how they did. But most importantly, we're so proud of them, and couldn't pick a better team. Get some!!!
Warm wishes,
Shinobi Poli
Owner/Operator of Shinobi School