With another break just around the corner, Shinobi School has you covered for all of your child's fall break plans! We're ready to help your child channel and unleash their inner ninja warrior!
Nov 20th-24th, Shinobi School will be hosting a fun filled camp to children ages 6 and up to give your child a place to come while on their fall break! This camp runs Monday to Friday, from 9am-1pm. Be sure to register with us before November 13th in order to take advantage of our Early Bird Special of $199!
---
Themes
This year our Shinobi School fall break camp will keep your child active and occupied while they learn functional skills to help them overcome obstacles in our school & through and in their everyday life. If you have any questions, feel free to contact us at info@shinobischool.com or at 813-679-7654.
Note: In the "Note to Seller" section of the Paypal payment form, please include your phone number AND the full name of the child attending the fall break camp.

Nov 20-24th: (Spots Available

18

)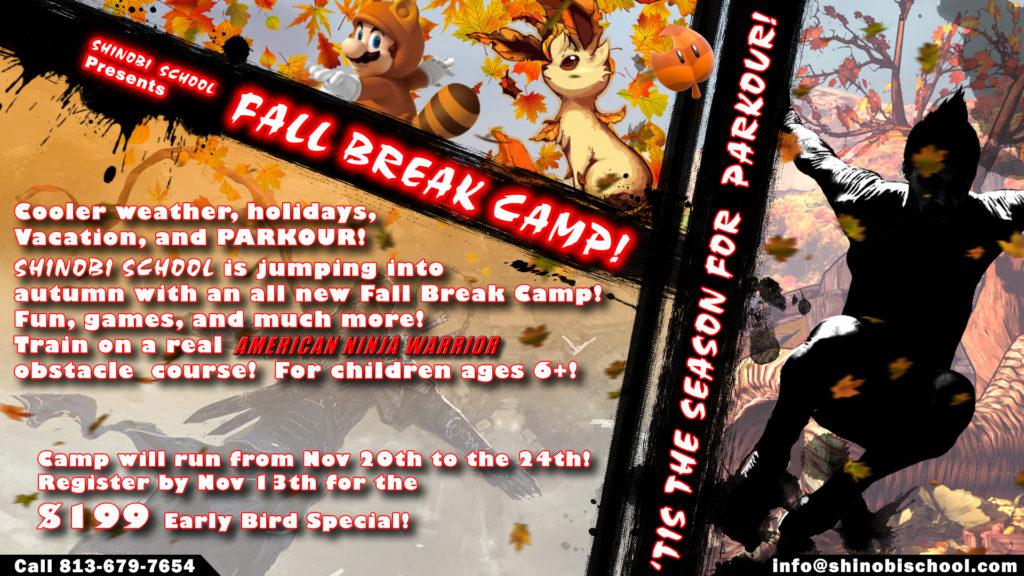 Looking to become the next American Ninja Warrior or Ultimate Beastmaster? Don't know where to start? Train with competitors from reality TV as you traverse through numerous obstacles inspired and used in your favorite hit TV shows and become a master ninja! From running and climbing to vaulting and rolling, our American Parkour certified instructors will also help your child learn to safely overcome obstacles in their environment while strengthening their body.  Let the world become your playground.
---
Frequently Asked Questions
What happens at Shinobi School camps?
Fun, games, and much more! Each day, your child will participate in at least TWO parkour or aerial arts classes, in addition to a number of different activities and games to keep your child engaged and active the entire time! Your child will have the opportunity to play on our Shinobi School obstacle course and unleash their inner ninja!
What should my child bring to camp?
Children should wear closed-toed, lace up shoes and clothes suitable for playing around (basketball shorts, t-shirt). We have cubbies for any student that brings a small bag with them to camp. Be sure to also pack water, plenty of snacks, and a lunch for each day so that your little ninja is energized for the day.
When does camp start? How much does it cost?
Each day of camp runs from Monday to Friday and begins promptly at 9am and ends at 1pm, but parents can begin dropping their child(ren) off as early as 8:30am. Feel free to email info@shinobischool.com or give us a call at 813-679-7654 to inquire about pricing!
My child is new to parkour/aerials and Shinobi School. Can they still join?
Definitely! There are no prerequisites to joining our fall break camp other than bringing your smiling face and getting ready for loads of fun! We often get many new students to our school, so your child will never feel like they are alone and isolated from the rest of the group. In addition, we make sure that all of our students have a basic foundation of parkour or aerial arts. Regardless of which day of camp your child attends, we will make sure that your child leaves each day with an experience they will never forget!
Do I have to enroll for the week of camp?
Nope! Our camp will offer plenty of fun opportunities and games through the week. We also understand that plans change, so contact us at info@shinobischool.com or call us at 813-679-7654 to inquire about pricing for specific days, and which days are the best choice for your family, or any additional questions you may have.
---
Reserve Your Spot ASAP!
Spots will fill up quickly, so be sure to register your child today in order to guarantee your spot! Feel free to pay online, or visit us in Shinobi School to register. You can also email us at info@shinobischool.com or call us at 813-679-7654 to inquire about pricing, or any other questions you may have!