At Shinobi School, we have a variety of classes available for you to learn and to train in movement arts of all kinds. The following is the list of our current formal classes we offer.
If you cannot find a group class that fits your schedule, please check out our private sessions to find a time that works best for you. We have private, semi-private, and open gym slots available depending on what you are looking for.
For more information or further questions, please contact us via our contact form.
Class Location & Designated Parking
11710 N 51st St., Temple Terrace, FL 33617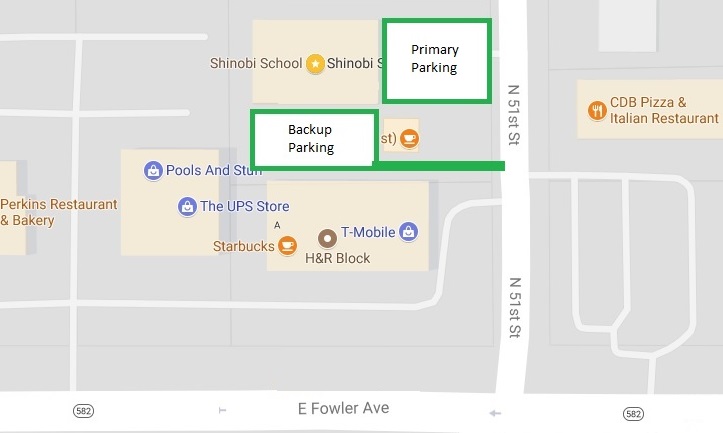 In our effort to help the local community, we've come up with a designated parking system to reduce the flow of traffic in our region and minimize our footprint. Please be respectful of locals, carpool if possible, and never park on a lawn or in front of a residents home. Being mindful and respectful of this neighborhood is what allows Shinobi School to grow unhindered, and continue to provide you with our world class service and training opportunities.
Open Gym

Tuesdays & Thursdays
5:00pm-7:00pm – Age 4-11
7:00pm-9:00pm – Age 12+
(Ages 11 and below may have special supervision restrictions)

Mondays & Wednesdays
8:00pm-9:00pm – Age 12+

Saturday
9:00am-12:00pm – Age 4+
(Ages 11 and below may have special supervision restrictions)
Little Ninjas


Mondays & Wednesdays

5:30pm-6:00pm – Age 4-7

Are your little ones ready to become the next American Ninja Warrior? They may have some time before they can compete on the hit show, but they can still learn valuable leadership and life skills while we help them safely climb, jump, and overcome any of life's obstacles in our school or the real world.  Students will develop a foundation of gross motor skills, coordination, strength, and confidence while navigating the environment through Parkour, Aerials, and Obstacle Course training.
Tumbling & Tricking (NEW)
Fridays
7:00pm-8:00pm – All Ages (8+) 
(Ages 8 & below with special permission)

Parkour


Mondays & Wednesdays

6:00pm-7:00pm – Age 8-11
7:00pm-8:00pm – Age 12+
Tuesdays & Thursdays
12:00pm-1:00pm – Age 12+
Intermediate Classes Coming Soon!
TBA
Learn to safely overcome obstacles in your environment while strengthening your body. Parkour can include obstacle courses, running, climbing, swinging, mantling, vaulting, jumping, rolling, quadrupedal movement, and more. Most of these things came naturally to us as children, but have been forgotten as time went on. Rediscover them again and let the world become your playground.
Circus & Aerial Arts
Mondays & Wednesdays
8:00pm-9:00pm – Age 12+
(Ages 11 & below with special permission)
These beautiful arts, as seen in cirque de soliel,  are a great way to gain upper body strength, enhance your balance, and tighten your core.   Aerial acrobatics and aerial dance can include silks, trapeze, lyra, bars, transitions, and occasionally various other circus and fitness skills. Let your fitness take flight to new heights.
Yoga

Mondays
6:00pm-7:00pm – All Ages
(Ages 11 & below with special permission)

Certified Yoga Instructor Manasa has been teaching yoga within the Tampa Bay community for the past four years. Her journey with yoga began at the tender age five and that was the birth of her passion for health and the human body. Apart from yoga, Instructor Manasa also teaches meditation, yogic philosophy, Sanskrit, and Ayurveda in the Teacher Training Program at the Lotus Pond Center for Yoga and Health both locally and nationally.  So what does that mean for you? That not only will you get a great work out in a friendly atmosphere while developing your flexibility, but you can learn to help make your world a healthier and happier place by first beginning from within.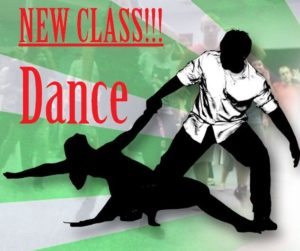 The Home School Ninja Community!
Tuesdays
& Thursdays
10:00am-11:00am – Ages 5-7
11:00am-12:00pm – Ages 8-11
Kids love American Ninja Warrior! The home school community has reached out to Shinobi School, and what you've told us is that you want to train here! So we've created special training events just for you and your active family! Contact your community leader or event liaison to set up your training event, or hop right into one of ours. Whether it's training to be the next American Ninja Warrior, or getting an intro to parkour, Shinobi School provides the training that your kids need and love! Events subject to change, please check class schedule(s) and availability before arriving. In the event of weather or rescheduling, contact your event liaison for more information. The "Home School Ninja Community" has special rates that only apply to this specific class. If you'd like to come to our public classes, please see your instructor for more information on membership rates.